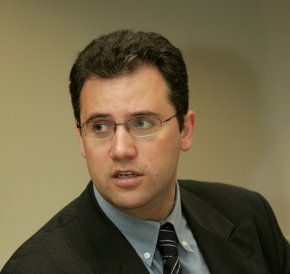 In a provocative article entitled "
David Milliband - President of the European Commission in 2014
", Dan Luca, President of the Romanian Social Democrats in Brussels, argues that the Party of European Socialists could attract the brother of the next British Prime Minister to be the PES candidate for Commission President in 2014. In order to attract candidates of the stature of David Milliband to run for the PES nomination it would be necessary to open the decision-making process to the individual members of the PES in democratic primaries.
Dan argues:
From a European point of view David inspires as a real politician, with big potential to become the President of European Commission in 2014. But the EU and the election system needs to change in order to get politicians like David involved at a European level ...

The key of my proposed mechanism is open elections of a representative for the Left as a candidate for the President of the European Commission. The selection phase should be very easy, clear and transparent. The decisive line is empowerment of the members, the activists. Their choice is the most important here. If too many bodies of the Socialists come together to "elect" the leader, this is not good.

In each of the 27 countries there need to be primary elections in 2013, and each country would have a winner who takes the number of the country´s votes. A more complicated election formula will be demotivating for the members.

In my opinion, David Miliband is one of the possible candidates for such an "exercise" and for sure a lot of Socialists would like to see him in the position of the President of the EC in 2014.
Dan finishes his blog article by asking a very loaded question:
Have we spotted a European "Obama" in the political arena?